Deal pricing and availability subject to change after time of publication.
TL;DR: The 3-in-1 Fast Wireless USB Charging Station is just $54.99 at the Mashable Shop as of Jan. 14.
---
If one of your resolutions is to be on-time more often, you need to start by getting organized. Nothing keeps you indoors for longer like a phone or Apple Watch that's on its last leg of battery life. If you want to make sure your devices are as ready as you are to hit the ground running at the start of each day, grab this three-in-one charger that takes care of all of your crucial devices at the exact same time — and in style. 
This 3-in-1 Fast Wireless USB Charging Station does it all, including charge your iPhone, AirPods, and Apple Watch simultaneously, without slowing down the charge time. If your home is overrun by chargers and cables, this dock will also help you get organized.
Once you plug in the dock itself, you can wirelessly charge your three Apple devices without fishing for extra cords. The practical, modular design lets you charge all three devices at the same time, or just one or two at a time, depending on what you need in the moment. The dock is made out of flame-retardant refractory material, so your devices won't overheat, and the dock stays on any surface. With its silicone base, it also won't scratch your precious wood desks, glass tables, or any other surface you decide to place it on.
Better time management starts with better organization — not to mention better gadgets. This fast USB charging dock retails for $114, since it can charge up to three devices at once at lightning-fast speeds. Plus, it does it all completely wirelessly. But for a limited time, you can save 51% and take it home for just $54.99 in black or white.
Prices subject to change.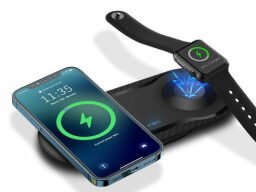 Credit: Ineedmeone