CubeX is an NFT project, launched a few months ago. It has shown a steady growth and offered some of the best utilities in the space. I will share the complete details of the project which aims to be next blue chip in near future.
What is CubeX?
CubeX is a 3D animated collection of 10,000 NFTs on the ETH blockchain. Cubies can be used as personal avatar and playable character in upcoming video games and applications. The art and animation is stunning with real utilities.
CubeX Utilities
CubeX offers a wide range from Gaming to Social Media and much more. It is one of the most unique projects which has targeted the fast growing gaming market, expected to be worth $321 billion by 2026. and also the social media, which is the key in future.
Staking
Team had introduced a 90 day staking program. There are multiple benefits for stakers and more can be included with time.
Every CubeX NFT holder who staked in the first 15 days of staking period received a free mint for CubeX access card. These cards are valid for 90 days till the staking period ends. Holders can either sell these cards on any NFT marketplace or use to access beta utilities. The only way to access CubeX games and social media app (Hubbl) is to get the Access card from Opensea at the moment.
Access card holders will receive a percentage of gaming fund after 90 days of staking period.
Access card royalties are kept in staking fund. Holders will receive a percentage in metaverse rewards such as ETH, NFT's etc.
CubeX NFT stakers will receive a percentage of social media app (Hubbl) funds generated from post to earn, share to earn, like to earn and other app campaigns.
Holders can also get free NFT's from future projects.
Complete details of current staking program can be read in discord channel here.
Gaming
CubeX game development started before even minting the NFT collection. This early initiative gained the trust of holders. Two of the games are already developed and in beta available for access card holders to play.
CubeX Splat PC video game with NFT/Blockchain integration
Team has built Splat, a blockchain integrated capture the flag shooter game. They'll be hosting $100,000s of Project vs Project tournaments. Projects will allow their holders to compete for $$$ and utility. The game is already in beta and the only way to play the game right now is by getting a CubeX card from Opensea.
Splat Tournament
First ever official tournament on CubeX SPLAT already completed. This tournament was accessible to CubeX Card holders only. More tournaments are planned for future.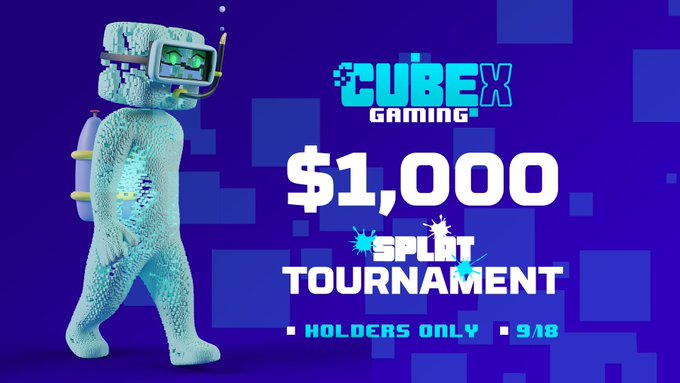 CubeX Swarm VR video game with NFT/Blockchain integration
Team has built Swarm, a blockchain integrated VR shooter game. The game is already in beta and the only way to play the game right now is by getting a CubeX card from Opensea.
Credit to @MattVegh
CubeX Gaming World
CubeX is the first NFT project to acquire a world class esports organization, that has championship, millions of dollars in earnings, some of the best players to ever touch gaming, a community of gaming natives, millions of impressions, hundreds of thousands of followers, and established name. This is the beginning of full expansion into the gaming world. Content creators just moved in to CubeX house! Millions of followers combined between these content creators. Goal is to achieve millions of views monthly and become the #1 watched and engaged NFT brand in the world.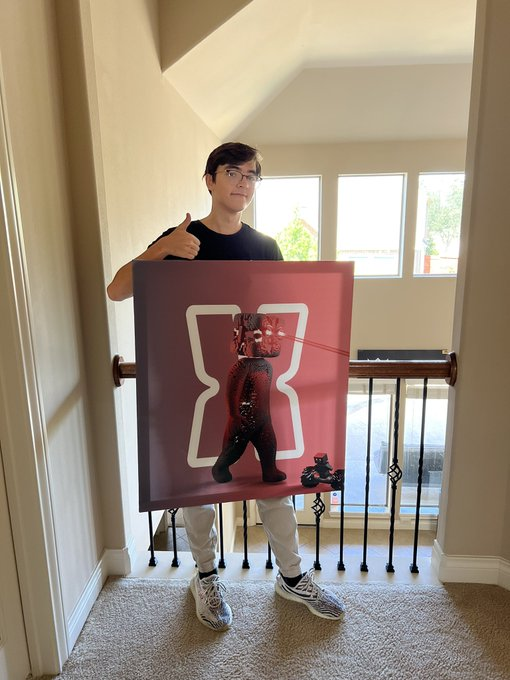 CubeX world on Minecraft
CubeX has set an explosive entry in to the gaming world soon with CubeX Minecraft world. Minecraft server will generate revenue for the CubeX fund in future.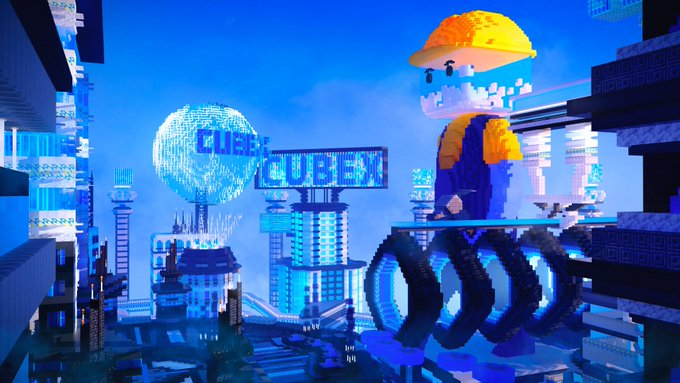 Social Media App (HUBBL)
Hubbl is the first large scaled NFT based social media app. The purpose it to make lives easier and Solve a core Problem in NFT industry. Too many apps and platforms to visit to do your daily NFT activities, now all in ONE PLACE that will feature:
-Wallet integration
-Posting
-Likes/Sharing/Replies
-AMA voice channels
-DMs/GCs
-Rarity tools
-OpenSea statistics
-Top projects
-Upcoming projects
-WL perks
-Gas tracker
-AND MORE
The team is working hard to change the WEB3 & NFT social media FOREVER!
Bloodlines NFT Access
Team has announced free access to @BloodlinesNFT for CubeX stakers. This is one of the many free access that Cubex holders will be getting by just staking the NFT's. Tons of plans and alpha shared in discord daily. This is considered by many as a world class free mint.
Cubicle
Cubicle is the exclusive DAO voting system only accessed with your CubeX Card Token on the blockchain. When the Cubies connect their wallet, they will be granted access and power to make important decisions on the roadmap and utility of the project!
All the Access card holders voted for the first time on 28th October for first important decision. The community felt glad to participate in key decisions of the project.
Future Plans
Build out the CubeX gaming ecosystem
Team is building long term video games that will bring the overall web 3 community together like never before. They are partnering with other NFT projects around the space to integrate their NFT into CubeX blockchain games and also to build games for them. It will create revenue for gaming fund which will be distributed to host gaming events and to provide metaverse rewards to CubeX Web3 Card holders.
Host the first ever inclusive Web3 gaming event
The team has planned to host the first ever Web3 gaming event with the generated gaming fund. It will feature other projects from all across the space competing for thousands of dollars in CubeX video games.
Hubbl official launch
Hubbl is already in beta and available on the Apple App Store for iOS and Google Play for Android. In future the Holders will get access to in-app benefits which will be available for public purchase. Also the funds will be generated from post to earn, share to earn, like to earn and other app campaigns.
Metaverse
Team is building a metaverse where all CubeX holders will have their own identity based on the NFT they own. They will get their own apartment and other projects can also join the metaverse with their NFT's. It will create a whole new experience to meet new people and projects.
CubeX Team
The Founding Team @DaraDouglas, @thekngmoe and @TFGmykL is fully Doxed and well experienced. They also enjoy a large following on social media platforms. Join the discord or their twitter page to meet & learn more about the Team.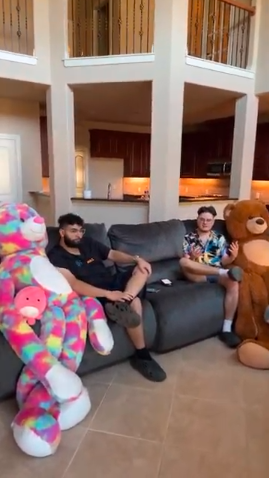 Official Links
Discord: https://discord.gg/cubex
Twitter:
CubeX: https://twitter.com/cubexnft
Gaming: https://twitter.com/CubeXgg
Website:
CubeX Website: https://cube-x.gg
CubeX Staking Page: https://stake.cube-x.gg
OpenSea Collections:
CubeX NFT: https://opensea.io/collection/cube-x-official
Cubex Access Cards: https://opensea.io/collection/cubex-card
CubeX Staking Wallet: https://opensea.io/0xcB1a599Da5a4BD9382743eE63ACd1eabF67F036F
Final Thoughts
CubeX has a well experienced and dedicated team. They have developed two games and a social media app in a very short time. The community is also very active and passionate about the project. It is very rare to see a project delivering the real utilities. CubeX has just proved they will keep on building and providing utility to the Holders. The floor price is still around 0.2 ETH which is a good time to buy and Hold the CubeX NFT for long term.
Note: Always do your own research before investing in any Project.
Let us know your comments and experience regarding CubeX