No gas. No hybrids. Just pure electric.
That's the lofty goal of many legacy carmakers that have been making gasoline-powered vehicles for decades.
The switch from gas to electric is part of an industry-wide effort to contribute fewer emissions. The U.S. transportation sector alone is responsible for 28 percent of its greenhouse gas emissions, according to the EPA.
At least 10 automakers are promising to make only electric options in the coming years, with the earliest transitions slated for as soon as 2025. EVs are also gaining in popularity, with 54 million global sales expected in 2040 (compared to 1.7 million in 2020, already up from 450,000 in 2015) according to a BloombergNEF report.
The shift in production also stems from political pressure from different states and countries. In 2020, California set a goal to end gas-powered car sales by 2035 — but it's not yet legally binding. Japan is also ending gasoline car sales by the mid 2030s. Norway plans to phase out gas car sales even sooner: by 2025. The UK and France have more enforceable gas-car sale bans coming by 2040.
Most companies, like BMW, Honda, Nissan, Mazda, or Ford with its upcoming electric Ford F-150 truck, are sprinkling in electric and hybrid options alongside their usual gas vehicle lineups.
But others are attempting to go full Tesla and convert longtime internal combustion engine factories to EV production only. Just don't expect all cars to suddenly be electric. Gasoline cars will still be on the road long after major companies switch to only selling electric vehicles.
There are the obvious EV players who have always only offered battery-powered options, like electric leader Tesla and startups like Lucid, Rivian, and Fisker. But in the past few years, companies that have depended entirely on gas car sales have voluntarily said they're going all in on electric.
Here are the carmakters you can expect to only sell electric options, even if it takes 15 years or longer:
Jaguar
Jaguar's electric I-Pace has set the, um, pace for the British carmaker: It's going all-in on electric starting in 2025. Seeing as the I-Pace is the luxury car company's only electric product it has some electrification to catch up on. There are currently six Jaguar SUVs, sports cars, and sedans available in the U.S. and that includes the electric I-Pace.
The company announced the new goal last month, and acknowledged it'll likely take until 2030 for all Jaguars sold to be 100 percent electric.
Bentley
Ultra luxury will soon be electric. That's what the legacy automaker announced last year with its plans for battery-powered cars only by 2030.
On the way to all-electric, Bentley will develop some hybrid models. There are two hybrids expected to be announced in 2021. By 2026, Bentley expects to have only battery or hybrid options for sale.
General Motors
At CES 2021, GM made waves with its announcement: The American automaker would stop producing emissions-spewing cars by 2035. Instead the company will expand its electric lineup, so that by 2025 there'll be 30 new EVs under the GM brands like Chevy, Cadillac, and GMC.
BMW's Mini
BMW isn't planning to give up on gas engines, but its line of cars from Mini is going the electric route. Mini sources reportedly said this week that the company will aim for plug-in only by 2030. Currently there's only the Mini Cooper SE as an electric option.
Volvo
Volvo presented its second all-electric SUV this month and tacked on a new goal. By 2030 the Chinese-owned Swedish carmaker plans to only have electric cars available.
So far it's getting there by adding electric versions of its gas-powered cars, like the XC40 Recharge.
Ford (but only in Europe)
While Ford is rolling out a plug-in version of its popular F-150 pickup truck in the U.S., it's planning to keep offering the traditional internal combustion version for now. But it's a different story in Europe, as the New York Times reported last month.
There, the American carmaker will transition to only electric and plug-in hybrid vehicles by 2026 and eventually only offer electric models throughout the continent.
Volkswagen
Back in 2018 Volkswagen set the impressive goal of eliminating combustion engine vehicles starting in 2026. The plan is to make the final VW gas-powered car that year, and from there on out stick to electric.
So far VW has ramped up its EV offering with the ID.4 electric SUV arriving this month.
Toyota
During the 2017 Tokyo Motor Show, Japanese carmaker Toyota pledged to stop producing combustion engines by 2040. Toyota is known for its hybrid Prius, and it has started to add more plug-in hybrid options for its RAV4, Camry, and Corolla models. Even the Prius has a plug-in option, called Prius Prime.
In April, the company announced a new goal: 70 electrified models (including hybrids) from all its brands by 2025. That includes the Toyota bZ4X, a concept SUV. It'll be part of Toyota's fully electric "Beyond Zero" brand.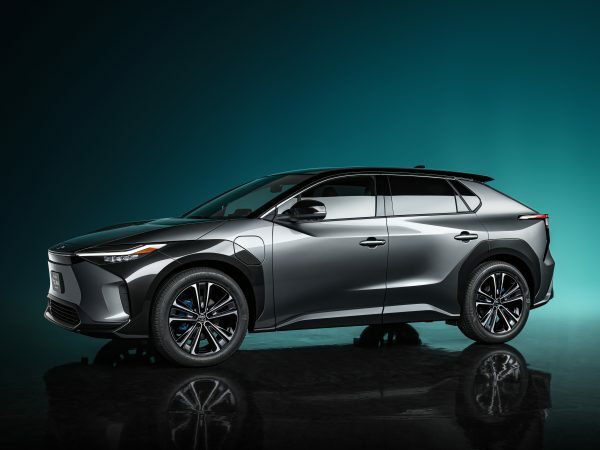 The Toyota bZ4X concept will be fully electric.
Credit: Toyota
Toyota is also one of the few companies with a hydrogen electric car that powers an electric motor with hydrogen that mixes with oxygen: the Mirai.
Subaru is working with Toyota on its first EV ever: the Solterra, due out in 2022.
Daimler/Mercedes-Benz:
The German car company behind Mercedes-Benz announced in 2019 that it would pull back on new internal combustion engine vehicles. Instead it would focus on turning the Mercedes lineup all electric.
In July, the company sped up its plans. Previously it had said it would produce its last gasoline-powered cars around 2040. Now Mercedes is aiming to sell only electric vehicles by 2030.
This accelerated timeline comes a week after the EU announced a proposed ban on new sales of internal combustion and diesel cars by 2035.
Audi
Audi is another German automaker that's slowly phasing out combustion engines. The high-end cars will continue to have gas-powered options for another 10 to 15 years, reportedly. But eventually Audi will only have electric vehicles.
The Audi E-Tron, first revealed in 2018, is its main Tesla competitor.
Nissan
Nissan's internal combustion engine days are numbered everywhere the Japanese automaker sells cars — except in the U.S. In the states it'll continue making a limited number of gas-powered products alongside new EVs, according to a Feb. 7 report. So far Nissan has two EVs: one of the first electric sedans, the Leaf, and the upcoming Ariya SUV. But the Leaf-maker will be developing more electric options going forward.
---
UPDATE: May 12, 2021, 12:03 p.m. PT This post has been updated with more information about electrification plans.
UPDATE: July 22, 2021, 1:18 p.m. PT New information added about Mercedes-Benz's electrification plans.
UPDATE: Feb. 7, 2021, 9:38 a.m. PT Nissan's electrification plans added.
This article originally published in March 2021, and was last updated February 2022.