Restaurant reviews on Google have become a new digital territory in the fight against misinformation in Russia.
On Feb. 28, the Twitter account @Konrad03249040 tweeted: "Get involved: find a random shop/cafe/restaurant in Russia in big city on google maps and write in the review what's really happening in Ukraine. Please spread the idea." The post tagged an account belonging to the hacktivist group Anonymous (@LiteMods) who then retweeted it to its 273,000 followers. The idea was later shared several times on the r/Ukraine subreddit, which received hundreds of upvotes in less than 48 hours.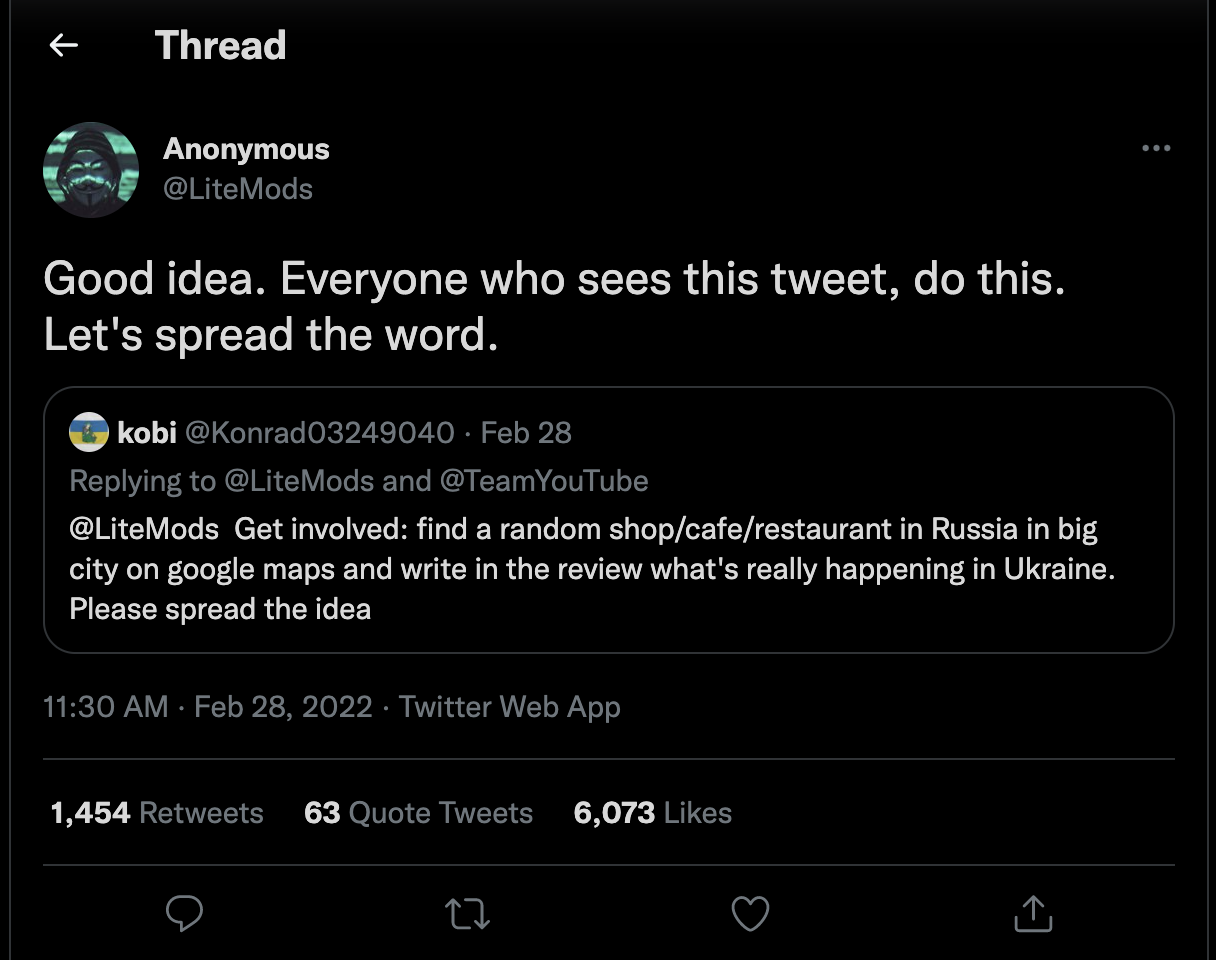 The post was soon retweeted by hacktivist group Anonymous
Credit: Screenshot: Twitter / @LiteMods
The tactic is an attempt to circumvent state-run Russian media and communicate directly with Russian civilians who might be unaware or unable to access independent or credible news reports. Widely considered to be controlled and censored by its government, Russian media is being used to spread misinformation to justify the invasion and discredit those who stand in solidarity with Ukraine.
Since the initial tweet, users across social media have continued to post comments and screenshots of "reviews" left on Google pages for restaurants, hotels, shopping malls, businesses, and government buildings.
One translated review that was shared to Twitter read:
"The food was great! Unfortunately, Putin spoiled our appetites by invading Ukraine. Stand up to your dictator, stop killing innocent people! Your government is lying to you. Get up! google "Kyiv" and putler [sic] and share it with all people in Russia."
"Thnx for the idea. I did just 60 random places in Moscow," one user responded on Twitter. Later that afternoon, Redditor u/Sveets_Drops commented "Just added over 50 reviews" in a thread on the r/Ukraine subreddit asking for their message to be translated into Russian.
On Tuesday morning, the top reviews for a Moscow restaurant named Romantic were the following:
A reviewer named Louise wrote in English:
"5800 Russian Soldiers died today 4500 yesterday Stop your agression [sic] dont let your kids suffer if you go to war you will not come back
Another review posted by Karolina:
"Food is great, but your leader is killing innocent people in Ukraine!!! Stop this war."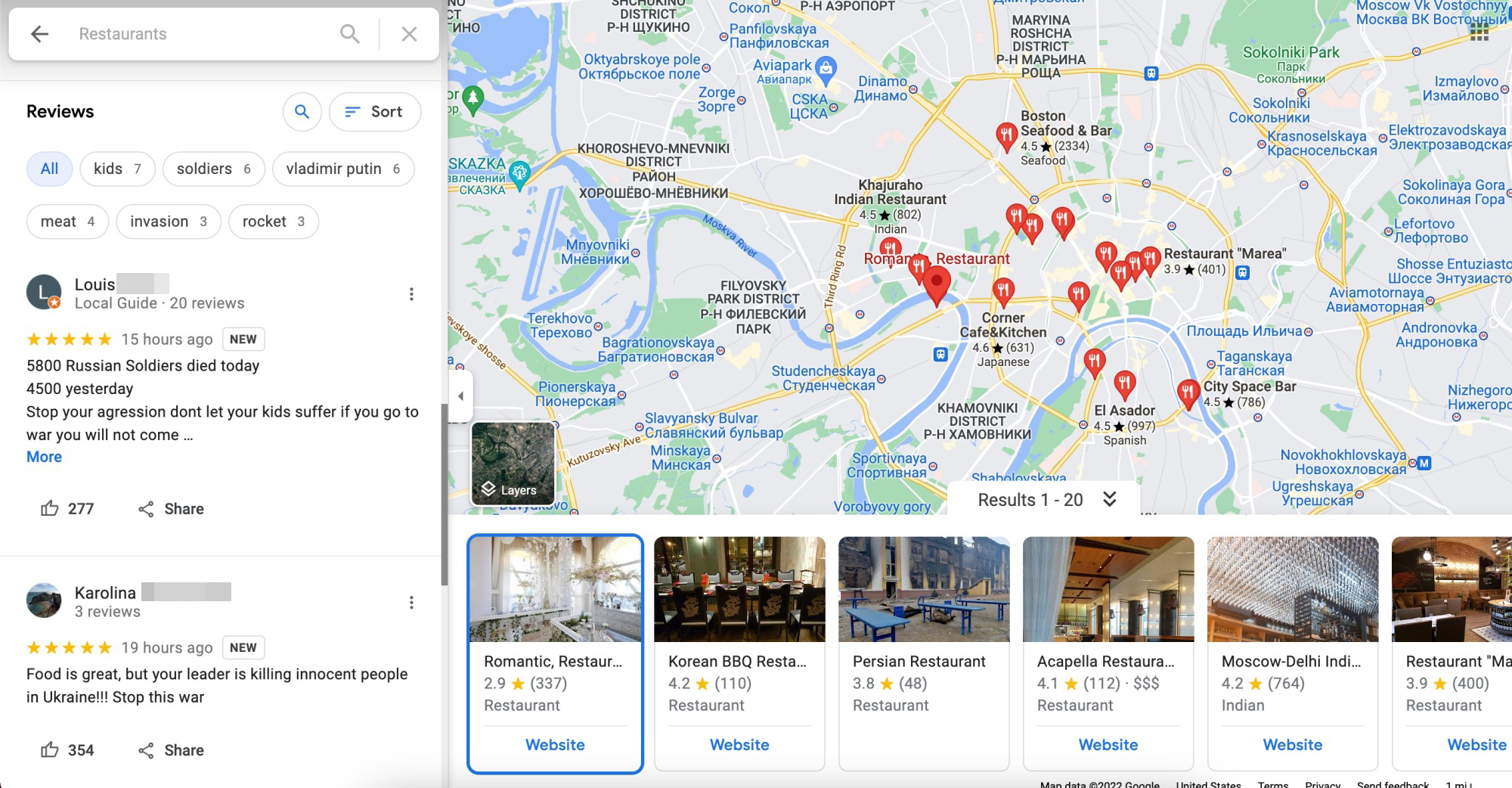 Reviews showing up on Tuesday morning.
Credit: Screenshot / Google
Both reviewers gave the restaurant five stars, since users have encouraged each other not to hurt businesses. Redditor u/Clipptube wrote in a post on Reddit, "Remember it's 5* to the local businesses or owned privately, and 1* to the Government buildings and facilities. Most Russian's do not want this war, but cannot actively speak out against Putin." Another wrote in the description of their post, "And do NOT attack Russian people. They are not our enemy. Putin is all of our enemy."
In an attempt to effectively appeal to Russian civilians, some users are suggesting different rhetoric. "I've seen people review bombing, but in a way that may confuse/antagonize Russians! Idea is to empathize and help them understand, provide easily digestible material," wrote u/True_Destroyer.
However, some of the reviews were graphic and offensive.
But the movement is running into some problems as some reviews on Google are already disappearing. The reviews mentioned above for the restaurant Romantic are no longer visible, and when sorted by most recent, the latest post was from three months ago. However, the keywords pulled from the missing reviews still remain on the Google page: "kids," "soldiers," "vladimir putin," "invasion," and "rocket."
Other users on Reddit have been running into the same issue, saying their reviews were deleted or not accepted. Comments to a post about Google Maps deleting their posts offer ways around that such as changing the messaging, including images, and reviewing lesser-known places.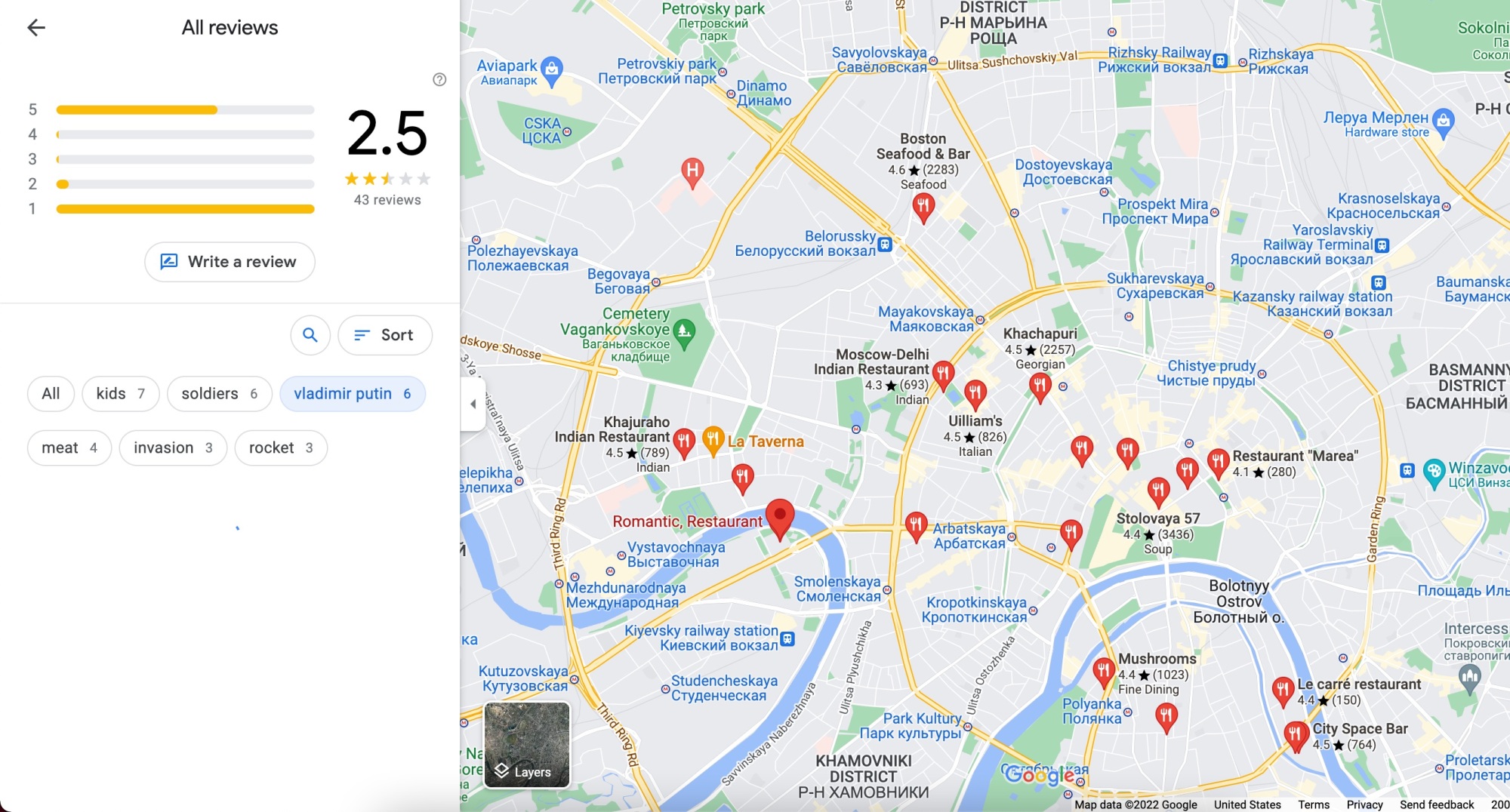 Later in the day, the reviews were gone, but the keywords remained.
Credit: Screenshot: Google Maps
It's unclear who is removing these reviews. It may be because the posts possibly violate Google's terms of service. Mashable has reached out to Google for comment and will update the story with a response.
But even before reviews stopped showing up, several users on Twitter and Reddit recommended switching to Yandex Maps instead, which is a Russian equivalent of Google Maps. Users explained that it's more widely used in Russia than Google.
Will a post for local cafe convince Russians to denounce Putin and the Ukraine invasion? That remains to be seen. But the internet has never been more motivated to write a review.