Deal pricing and availability subject to change after time of publication.
PREORDER: Announced at CES 2022, The Freestyle is a versatile new Bluetooth projector from Samsung with a 180-degree design and smart TV app support. Reserve one on Amazon for $897.99 (normally $899.99) ahead of its Feb. 14 release and you'll get a free case worth $59.99.
---
Watching TV on a TV is so 2021.
Samsung dedicated a portion of its CES 2022 keynote this week to unveiling The Freestyle, a new portable Bluetooth projector that can rotate up to 180 degrees and display an image on any surface up to 100 inches (even if it's angled) — no screen required.
"It's also got access to smart TV apps so you can stream all your favorite shows and movies onto the kitchen ceiling [or wall or floor], if that's useful for whatever reason," per Mashable tech reporter Alex Perry.
SEE ALSO:
The 5 coolest new TVs shown off at CES 2022

Calling The Freestyle just a projector would be doing it a disservice, though. When you're not using it to catch up on Yellowjackets or the final season of Search Party, you can also use it as a smart speaker; it supports multiple voice assistants and packs a 5-watt woofer for 360-degree sound. Need some mood lighting? Turn on its ambient mode and pop on the translucent lens cap — it'll even pair your music with some visual effects, Samsung said.
And don't feel like you need to limit The Freestyle to a boring life on a shelf. It weighs in at just under two pounds and works with portable USB-C chargers, "making it possibly the most versatile projector out there," Perry wrote. It's only as big as a soup can, so it'll fit into a backpack, weekender bag, or carry-on.
The Freestyle is set to launch on Feb. 14 and will cost $899.99, but if we were you, we'd lock in a preorder from Amazon ASAP: As of Jan. 7, the retail giant was selling it for $897.99 and throwing in a carrying case worth $59.99 for free with any order placed before Jan. 24. (Note that Best Buy and Samsung.com were also offering the free case preorder promo, but that $2 discount is an Amazon exclusive.)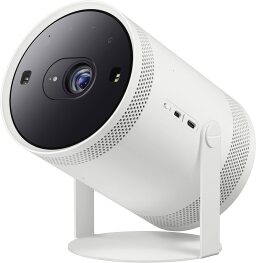 Credit: Samsung
Explore related content: