Instead of plopping a giant battery into the Mercedes-Benz Vision EQXX to give it more range, the German automaker is trying something different for its new electric concept: ultra-efficiency suffused throughout the entire car.
The Vision EQXX was revealed virtually Monday ahead of the CES technology conference as the future, well, vision of Mercedes' electric vehicle lineup. Its first all-electric EQS sedan started delivering just a few weeks ago (with a $102,000 starting price), but Mercedes is already looking to what's next.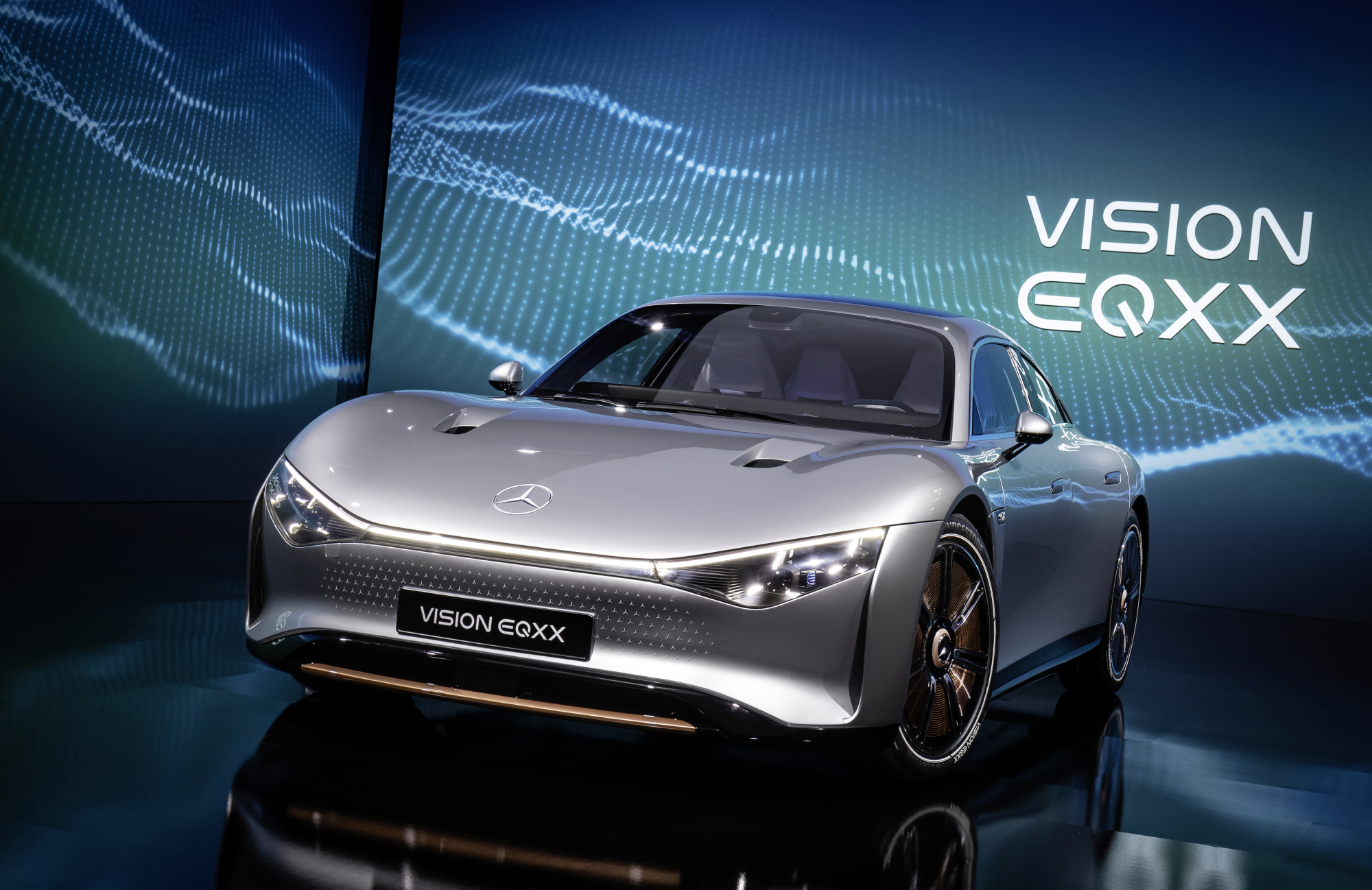 Vision EQXX is the first all-electric vehicle from Mercedes-Benz.
Credit: Mercedes-Benz
For future Mercedes EVs, expect long ranges — up to 620 miles. The EQS battery offers about 450 miles on a single charge, and the longest-range vehicle already on the road is the Lucid Air Dream edition with its 520-mile battery. 
But for Mercedes, a compact and efficient battery is crucial. The battery's energy consumption is only 10 kWh per 100 kilometers, or 6 miles per kWh. Its energy density means there's 100 kWh of energy but at only half the size of the EQS' battery pack. The EQS uses over 15 kWh per 100 kilometers.
Trying to maintain efficient driving meant unique exterior design choices. Mercedes described the shape as "more aerodynamic than a football." But this will be a sleek vehicle, compared by its creators to a "water droplet" with a small front area and an air curtain over the front bumper, along with wheel covers.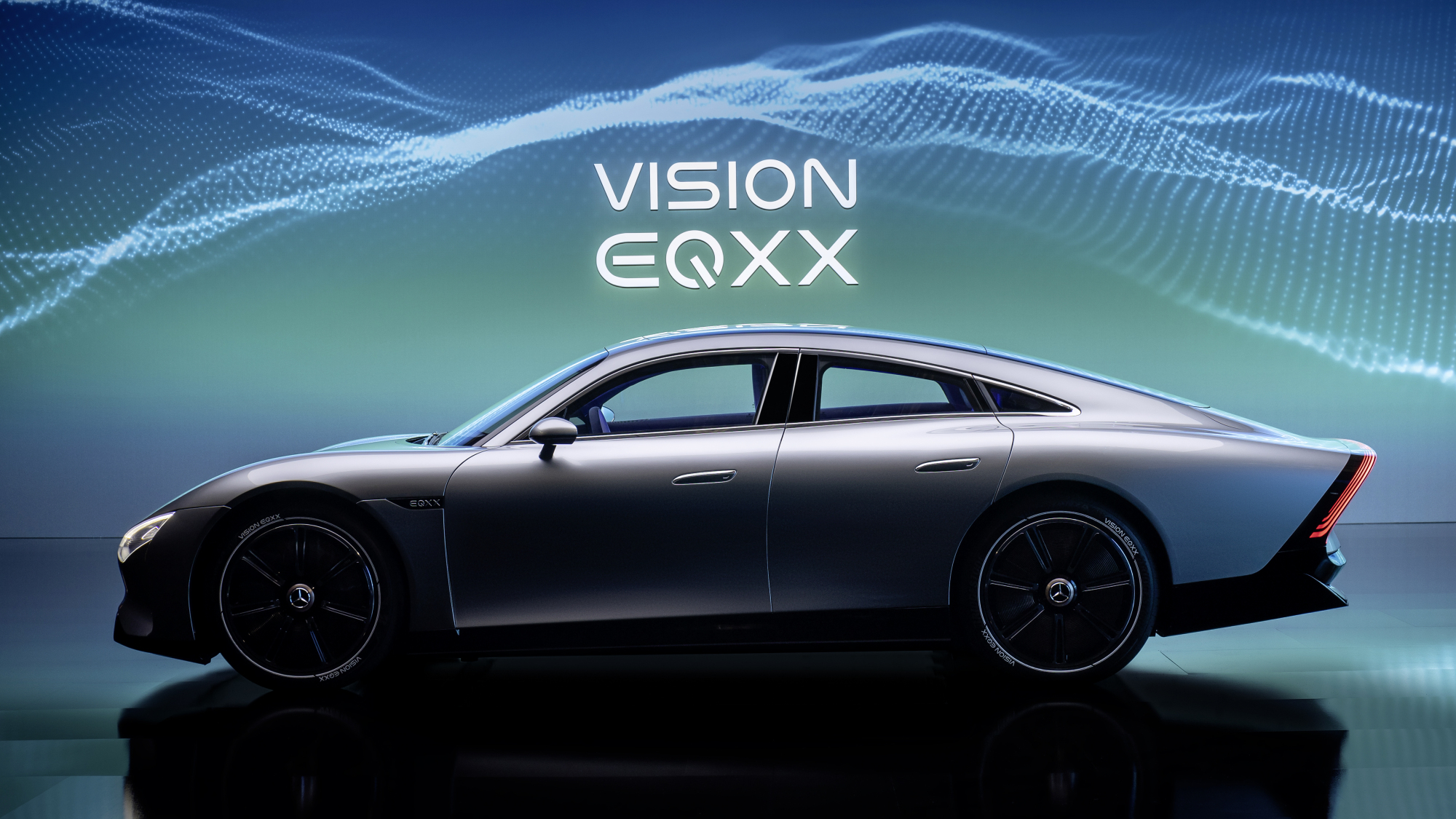 This sleek EV sports an aerodynamic design.
Credit: Mercedes-Benz
Solar power roof panels can add up to 15 miles of range and power the car lights, infotainment system and other features, which plays into a focus on recycled materials throughout the car.  
There's vegan silk-like fabric on the doors, and vegan leather made from mycelium — the roots of mushrooms — along with a cactus-based material also for seating and interior spaces. On the floor there's carpeting made from bamboo fiber and a plastic alternative made from recycled materials like bottles.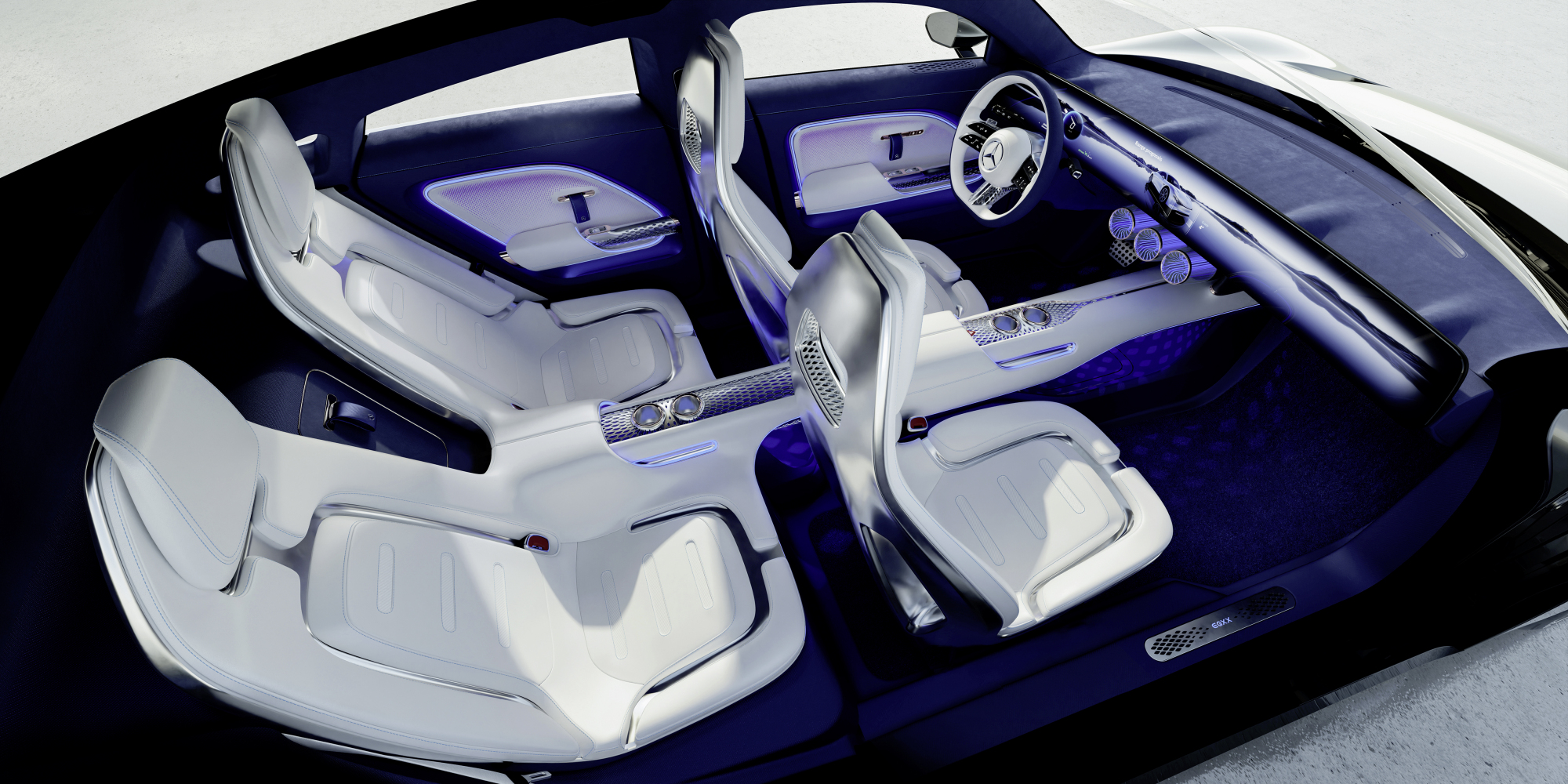 The EV's vegan leather interior.
Credit: Mercedes-Benz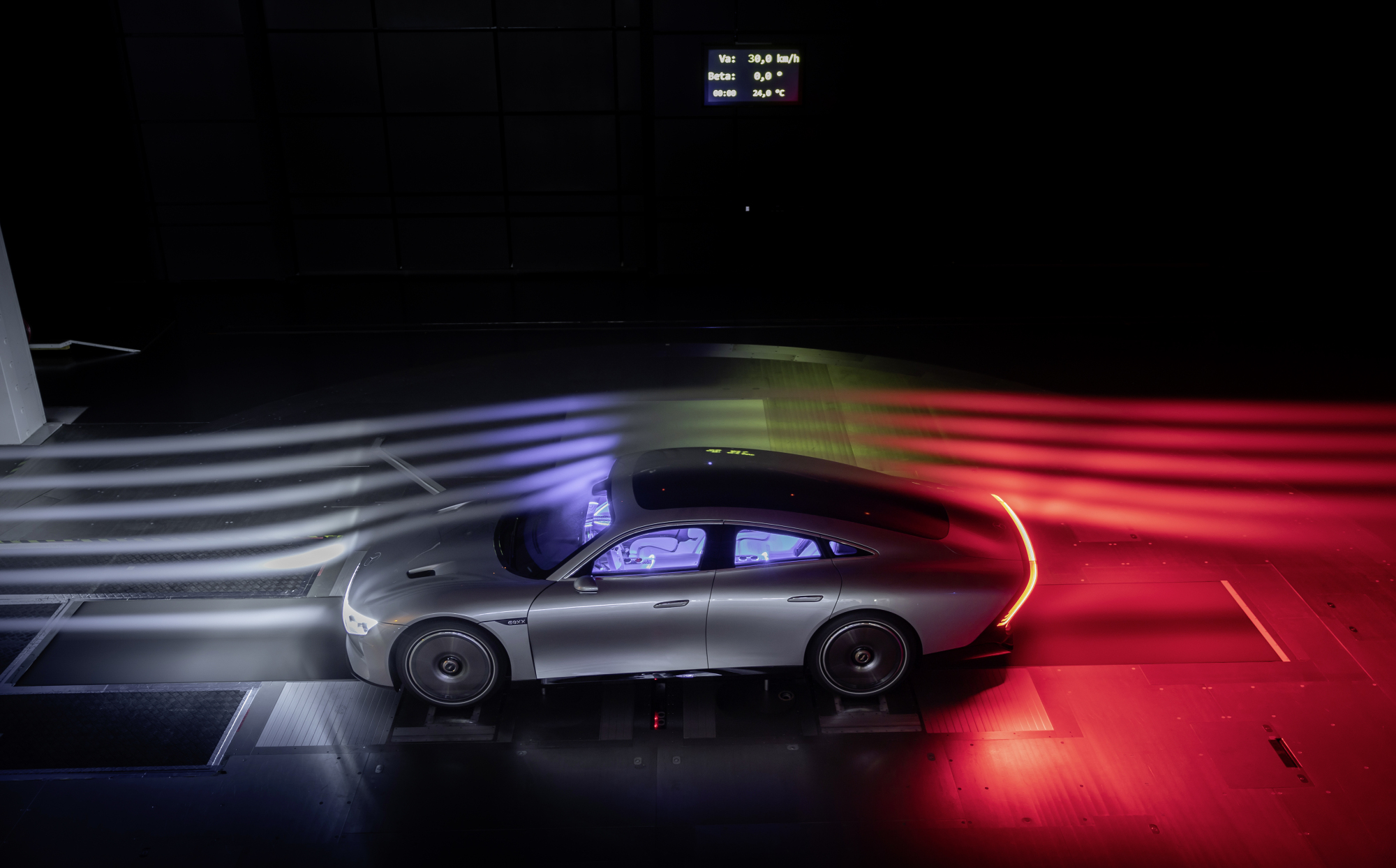 The solar power roof panels can add up to 15 miles of range.
Credit: Mercedes-Benz
The front hyperscreen is already impressive (and expensive) in the EQS lineup, but this concept takes the giant touchscreen to the next level. A seamless (meaning one continuous screen) 47.5-inch display spans the entire dashboard with 8K resolution. For mapping there's a 3D navigation system.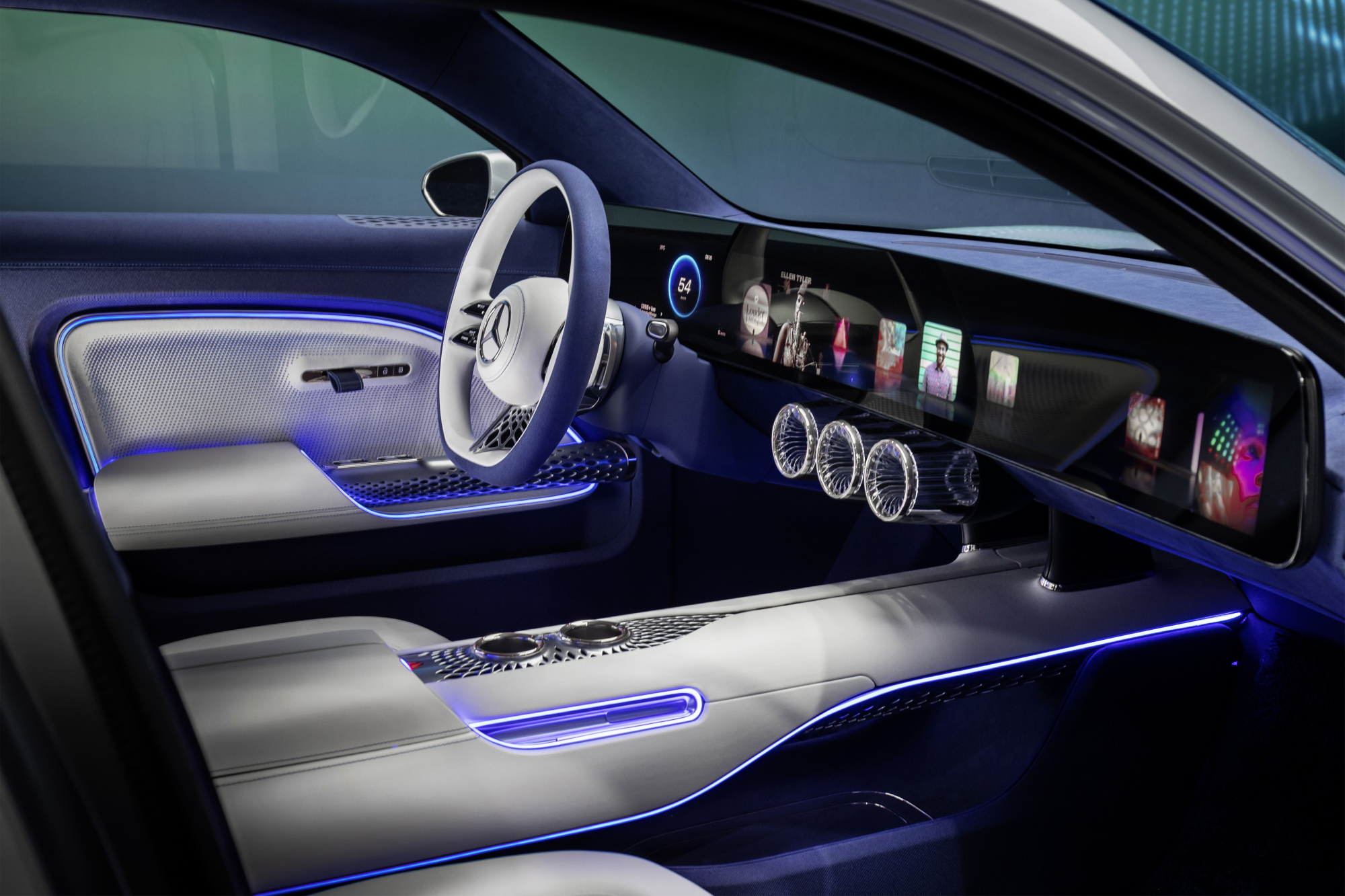 That's a 47.5-inch display!
Credit: Mercedes-Benz
The EQXX still uses Mercedes' voice control system, but it's now infused with AI. Working with a machine learning company, the car uses neuromorphic computing which thinks more like a human to reduce energy consumption while running commands.
The voice assistant can turn into an efficiency assistant suggesting certain driving modes and styles. You can see what's coming up ahead with a display of speed, incline, wind, and resistance and how that's using up energy.
From the battery efficiency to over 600-mile range it all sounds too good to be true, but remember, other Mercedes concepts have been made into real products.