Deal pricing and availability subject to change after time of publication.
TL;DR: As of Jan, 5, take 62% off a lifetime subscription to Enpass Password Manager and get it for just $29.99 instead of $79.
---
Leave the annoyance of forgetting your passwords in 2021. In 2022, you should finally let technology do what it was intended to do: make your life easier. Enpass Password Manager secures all of your logins in a digital vault and automatically fills them in for you. So, you can stop hitting the "forgot my password" button once and for all.
An individual Enpass subscription is typically $79, but it's currently on sale for just $29.99. That's a savings of 62% and a whole lot of time and energy.
Enpass will generate random and strong passwords for you to replace your easily-hackable ones (looking at those of you still using "123456" and "password"). It stores all of your credentials from across the web in an encrypted desktop app and when you go to specific websites, it auto-fills all your information in for you. And magically, your life becomes easier on the web.
None of your data is stored on the Enpass servers, either. It's all stored locally on your device. You'll get immediate alerts if any of your accounts are breached or appear particularly vulnerable. That way, you can change your passwords before anything happens. You can even login using Face ID or Touch ID for additional security.
The desktop app can import data from other password managers, Chrome, or Excel, and syncs with most major cloud storage services, including iCloud, Dropbox, Google Drive, and OneDrive. And with an individual plan, you'll get unlimited passwords, vaults, and devices. So, you're basically covered for life.
See why users have rated it 4.4 out of 5 stars on App Store and Trustpilot, and 4.6 out of 5 stars on G2. Usually $79, you can get a lifetime of Enpass Password Manager for just $29.99.
Prices subject to change.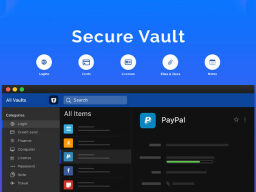 Credit: Enpass