Deal pricing and availability subject to change after time of publication.
TL;DR: As of Feb. 8, save 50% on a one-year premium subscription to Dashlane Password Manager and get it for $29.99 instead of $59, or save 64% on a one-year family plan — that's $31.99 instead of $89.
---
When it comes to managing and securing your online persona, a password manager is practically a necessity. Not only does it help you keep your unruly list of logins under control, but it can also let you know which ones are leaving the door open to potential hackers.
If you're still trying to manage your passwords in a notebook filled with scribbles, it might be a good time to make the switch — especially since Dashlane Password Manager (Mashable's number one pick) is on sale for up to 64% off as of Feb. 8.
We like Dashlane for its slick, user-friendly interface, its option to import passwords from any site or other password manager, its categorizing abilities, and its emergency contact options. It's available across all platforms and browsers, so you can instantly log into any website or app, make digital payments, store vital personal data, and more. All of your account logins will be stored in Dashlane's military-grade encrypted vault, which can fit unlimited passwords. Then, when it comes time to login, Dashlane will autofill your username and password with a single click.
If your current passwords are weak or easily hackable, Dashlane will generate new ones for you and store them in the vault. So, "password123" will be changed to something more complex, with randomized numbers, letters, and symbols.
While Dashlane encrypts your data, it can't guarantee the sites you're using every day are safe. But it will instantly send you a security alert if a site suffers a security breach or hack that could affect your data.
For a limited time, you can save 50% on a one-year premium plan or 64% on a one-year family plan if you're a new user. The premium individual plan is on sale for just $29.99, while the family plan is just $31.99.
Prices subject to change.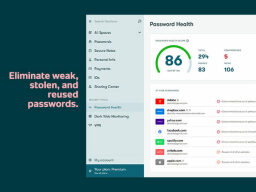 Credit: Dashlane