There's never been a better time to be an online content creator and 2022 was no exception. Whether you're a YouTuber, podcaster, or a blogger, there's always some new app or hardware that makes the process better, easier, or even just more enjoyable. 
But as you might imagine, there's a lot of these tools out there, which can make it a bit overwhelming at times. And, as a result, there's a lot of stuff that can be missed. This is why every year I try to take a look at what's new out there and share some of the best products and services for creators that I've used.
This past year, when it came to hardware, it seemed like the standard bearers for audio and video creation became pretty clear. But with software, that's where things continue to get interesting. There are entirely new apps that put something completely unique out into the market, while other apps put interesting twists on existing services.
Let's run down some of the most interesting ones now.
Video and livestreaming
If you're streaming live video on a Mac, Ecamm Live has quickly become the leading streaming service for creators. I've recommended it before as the most intuitive live broadcasting software for Mac because it's not complicated like most other broadcasting software is. But the new Ecamm Live, which is currently in public beta, is honestly like a brand-new app.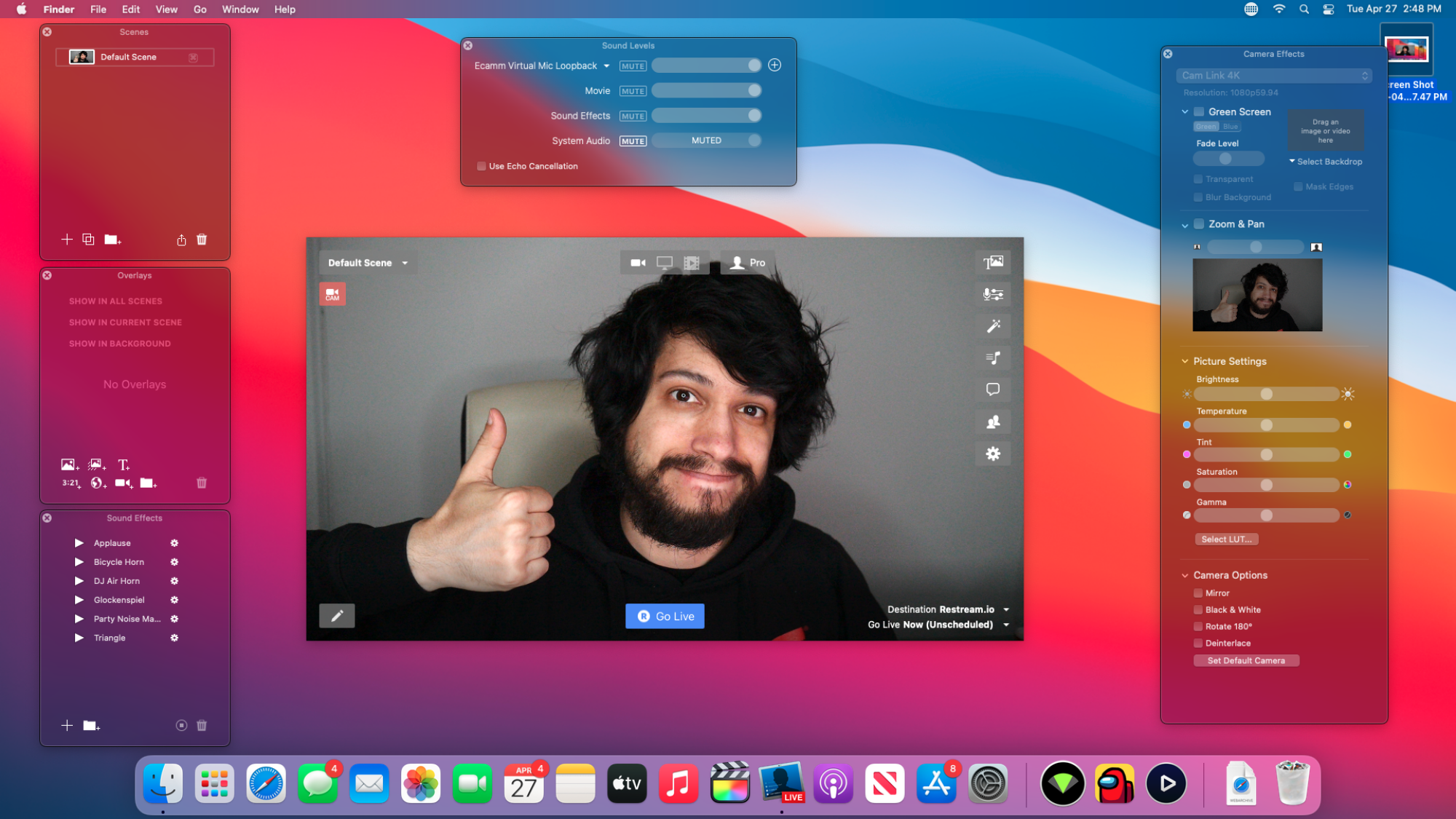 Ecamm Live continues to be the best choice for Mac-based livestreamers.
Credit: Mashable Screenshot
Users can now multistream to numerous different platforms like Twitch, YouTube, and more at once. There are separate services that do just this, like Restream, and I still suggest that those without very fast internet service use those platforms. But Ecamm Live builds this right into its streaming software, which is great if your ISP plan can handle it. The new Ecamm Live also provides isolated recording of your camera and audio inputs, so you can edit a completely different-looking video with the same content afterwards. Or, even just repurpose what you recorded as a podcast.
Speaking of repurposing content, that's a big trend among creators nowadays. If you're conducting an hours-long livestream on Twitch, why not grab the audio and upload it as a podcast, too? While you're at it, you should also cut that longform content into shorter pieces to upload on YouTube, Instagram, and TikTok. And there are apps that will help you do just that. Repurpose.io and chopcast both provide users with the ability to quickly chop up content, resize video for specific platforms like TikTok or Instagram Reels, and add overlays made for social media-friendly video. Timebolt is an app I've recommended before which scans for lulls in the video and automatically cuts out the silence, making it perfect for users who want to turn their live video into more concise podcast episodes.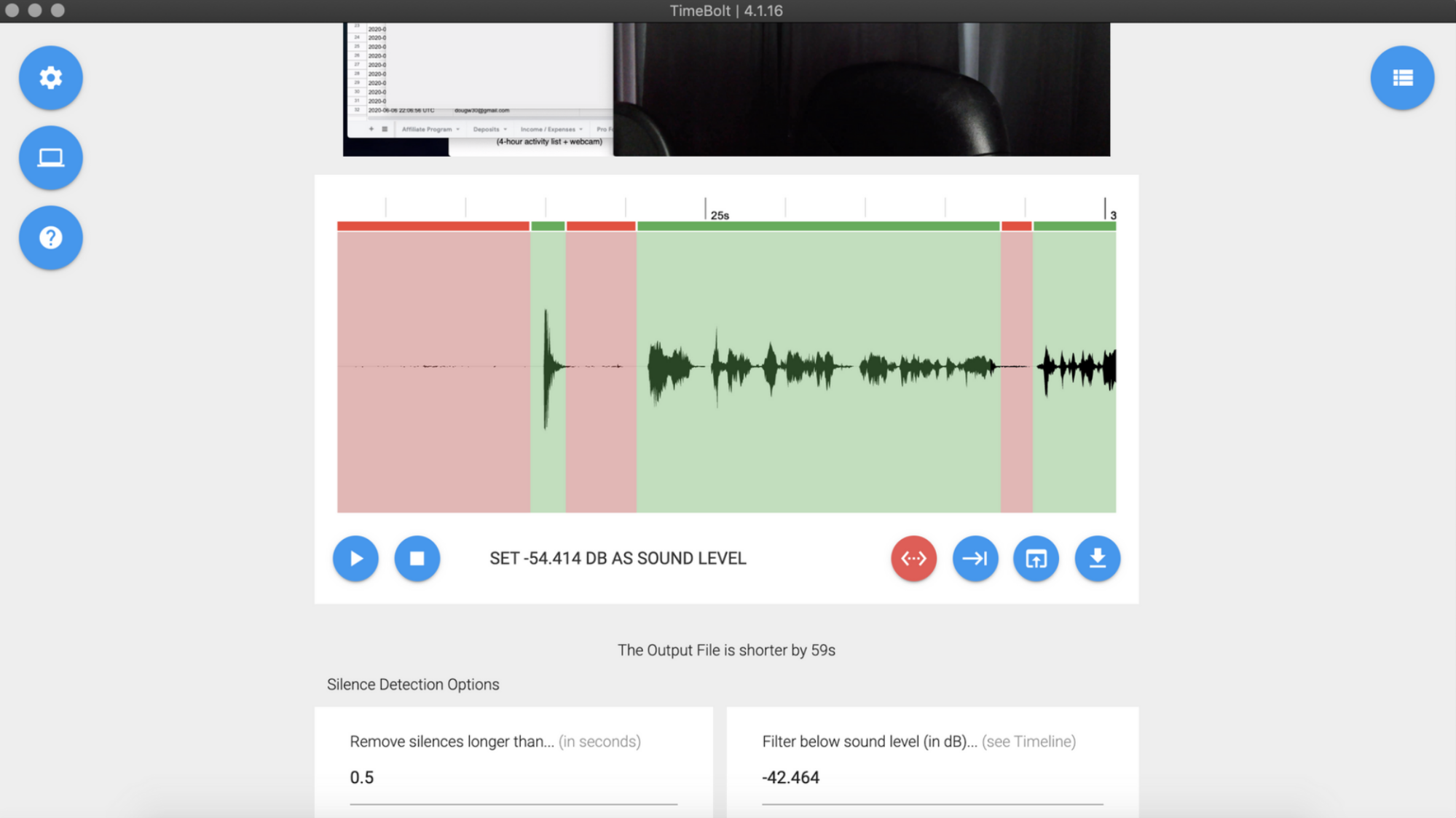 Automatically remove silence in your videos and save time with TimeBolt.
Credit: TimeBolt
If you're looking for hardware recommendations, the Shure MV7 remains the best USB option for microphones. Its quality is close to that of its more professional older brother, the Shure SM7B, which has become the standard for professional audio recording. If you do have XLR microphones you want to use over USB, I suggest the Rodecaster Pro from Rode over any cheaper options. The ability to have a fully functional soundboard, which can also act as a standalone recording device, could be immensely helpful for your creator workflow.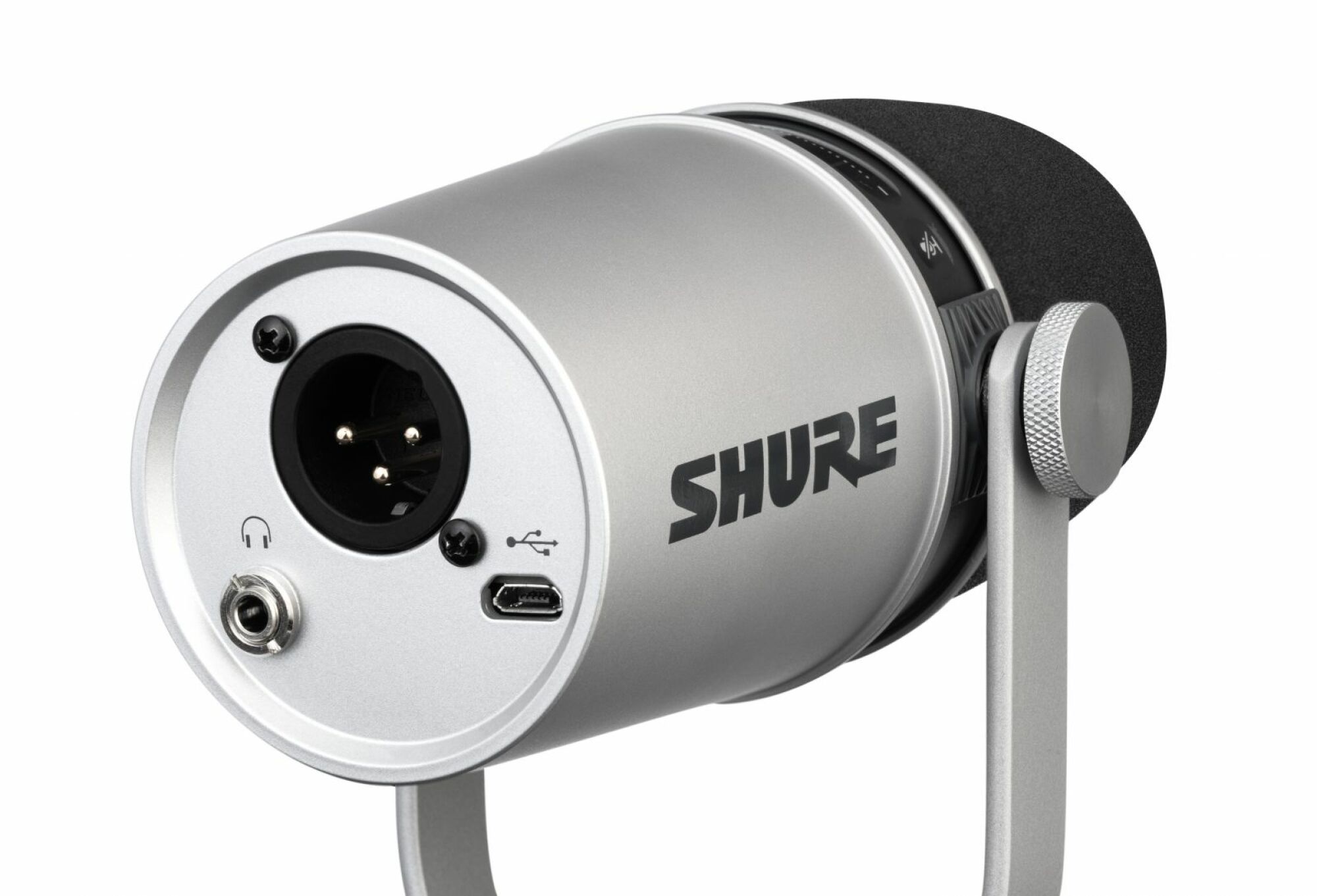 With both USB and XLR connection, the Shure MV7 is a great mic for beginner and advanced streamers alike.
Credit: Shure
As for cameras, just grab the Elgato Cam Link which will turn nearly any DSLR or mirrorless camera into a webcam that will output better quality video than any "real" webcam on the market. Elgato also still provides the best lighting solution for streamers with its Key Lights, which can be turned on and off, and adjusted via a mobile app.
When it comes to the best computer for creators, I'd still recommend the Mac Mini M1 as the most powerful at the most affordable price. However, if you're a creator that can splurge and spend a bit more, the 14″ Macbook Pro with the M1 Pro chip is the one to check out. The M1 Pro performance is 60 percent higher than even the M1. It even performs better than the newer model of Macbooks with the M2 chip.
Social media content
When you think of social media apps, you probably first think of services that help users post to multiple different platforms. But I much prefer using social media tools that help facilitate research for content ideas and track conversations around trending topics.
Find anything, anywhere on Reddit and mine for content ideas with Gummy Search.
Credit: Mashable Screenshot
Reddit is a huge resource for content creators who are looking for, well, pretty much anything to talk about. GummySearch is a Reddit tool that allows users to track trending posts and relevant conversations on the platform. It's sort of like Google Alerts but for Reddit. Another great place to find topics to create content about is on Twitter. The iOS app, Bird Search, helps you do deep searches of the platform and find content based on specific attributes like top tweets of the day or tweets with the most likes containing a particular search term.
When it comes to content creation for social media, Xnapper is a super-easy tool that gives you complete control over the design of your screenshots. If you find yourself often taking screenshots of tweets to post on other platforms like Instagram, for example, Xnapper will help you throw a background on it, provide a border or round edges, and then automatically resize it to fit the formatting you need.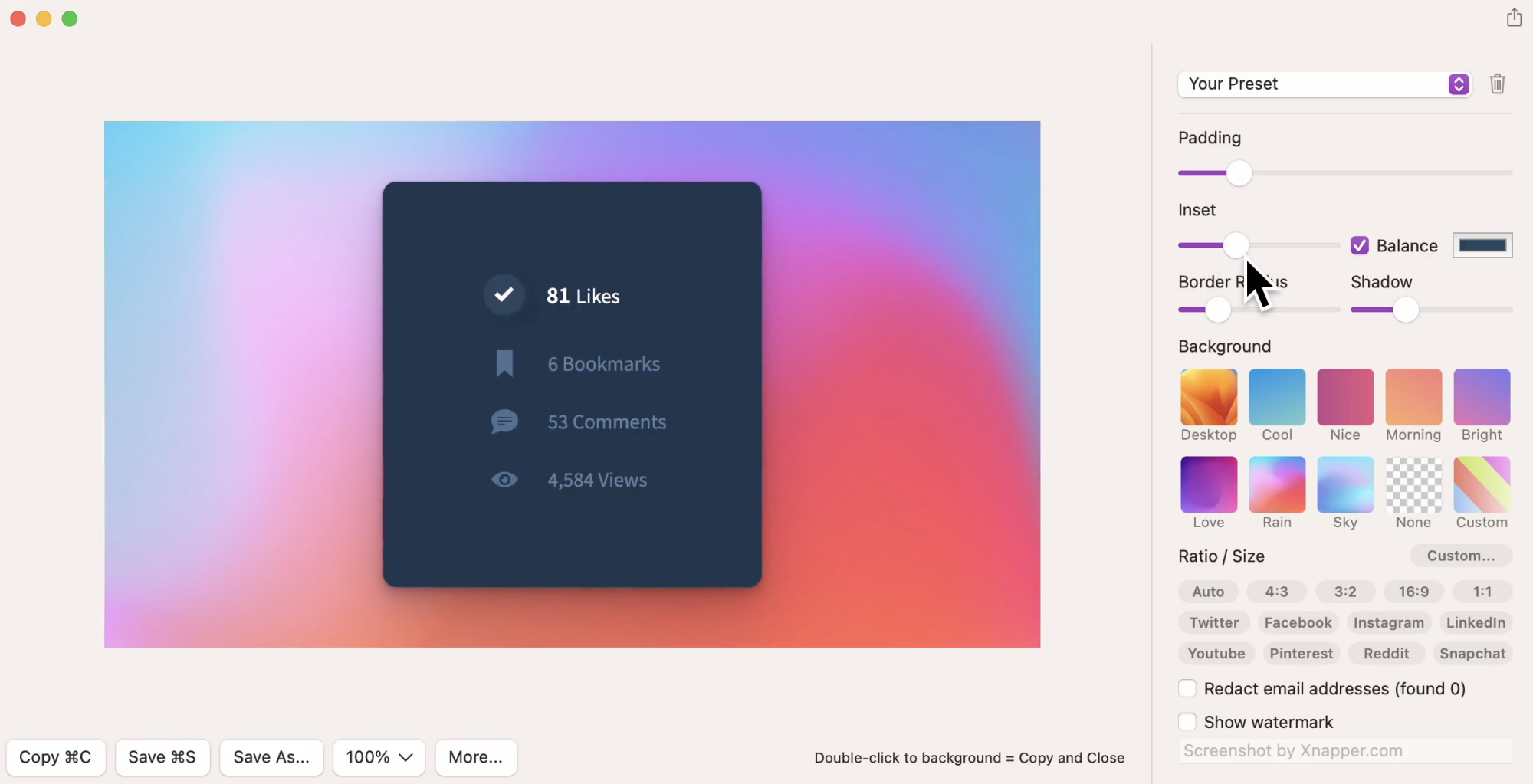 If you post a lot of screenshots, Xnapper will help make them look snazzy really quickly.
Credit: Mashable Screenshot
If you find yourself consistently sharing the same content on social media, check out ZoZo App. It's an iOS app that adds keyboard shortcuts to your iPhone and iPad keyboard. You can turn anything, like a link, a photo, or a text template into a one-click button on your smartphone. Just load up all of your social media links, for example, and easily post them with a single tap of your phone.
One piece of hardware I discovered this year is Pivo, a motion-tracking smartphone camera mount. Basically, if you're shooting video by yourself and are sick of having to constantly limit what you do due to a stagnant tripod, you can use Pivo to automatically follow you as you move around the room for your TikTok videos. I was pleasantly surprised at how accurate it was at locking onto an individual and following them around the room. And after reviewing the videos that were shot, the motion tracking is actually very smooth and looked quite professional.
Writing tools
AI writing tools are the next big thing, if they aren't already the big thing. Some of what's being created out there via AI is very impressive. However there are many real concerns around their usage, but that's for another piece. It's important to remember in the context of using AI tools that they are just that: tools. These apps should be used to help break writer's block or to help think of a new creative direction to take a story in. Don't use them for a final output.
With that said, one AI writer I came across that stood out to me was Katteb. Why? It's the only AI writer I've seen, at least on the consumer level, that provides fact checking. If you're a YouTuber or podcaster who needs some line suggestions for a script, Katteb's fact-checked outputs seem like a good place to start. In my testing, the outputs were all factually accurate, which was impressive as my experience with AI writers found that they often make inaccurate claims.
For longer form website content, Wordplay is an option to check out. Wordplay seems to focus on search engine optimization targeting. This is good for creators who can then go into the AI output and make edits in their own voice without having to worry about banal SEO keyword targeting because it should already be there via Wordplay.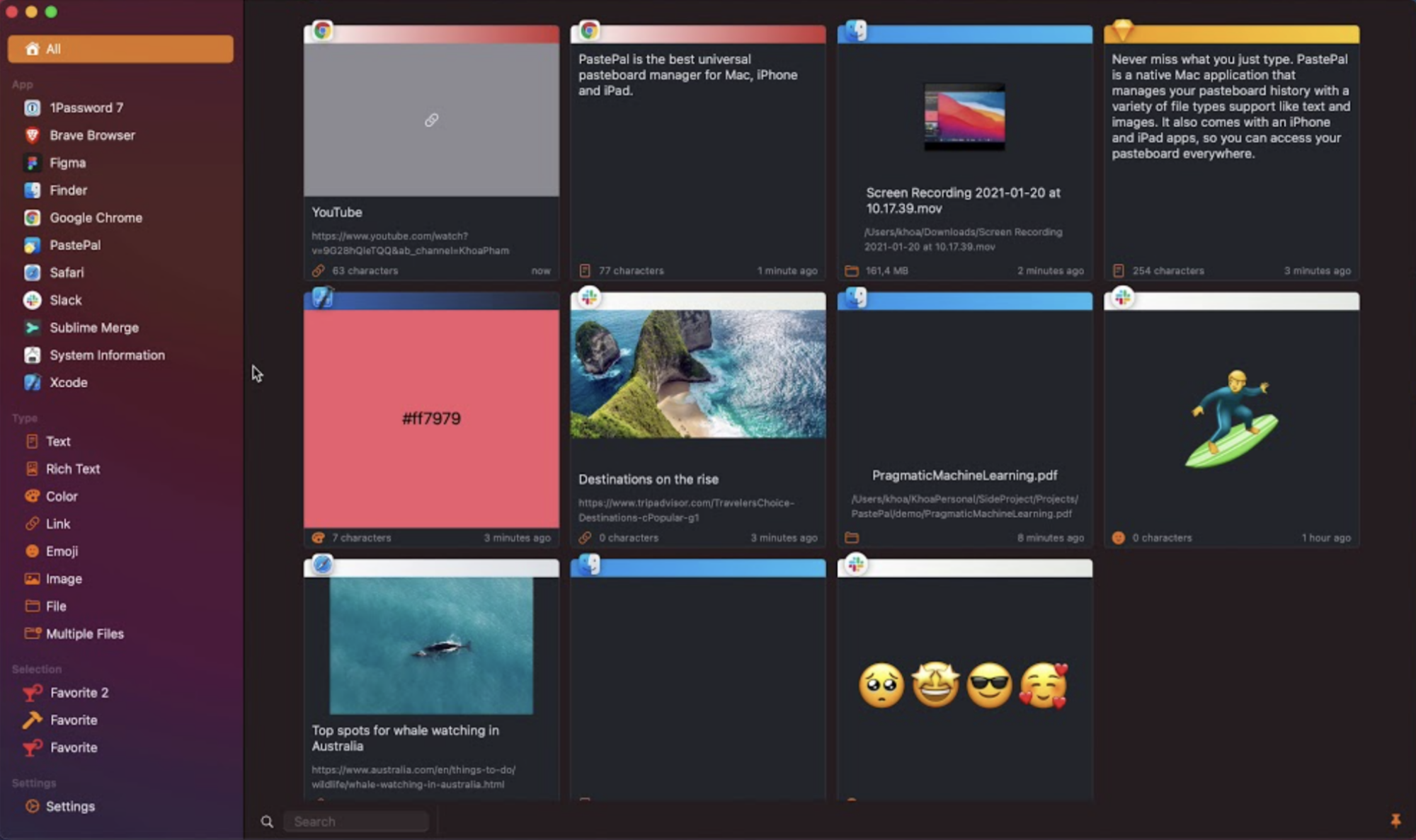 Easily share links to your YouTube channel and other social media profiles with PastePal.
Credit: PastePal
For writing tools that can be embedded right into ordinary workflows, check out services like Grammarly or Linguix. Each provides writing assistance features like grammar checks, sentence rewrite options, and more valuable tools for those planning scripts or writing blog posts.
And finally, a good copy-and-paste tool should be on every creators list. I am constantly copying and pasting links to Twitch streams, YouTube clips, and podcast episodes. It helps to be able to have those links, which can sometimes be long and cumbersome, save across my devices. Enter PastePal, a cross platform Mac and iOS app that retains your entire copy and paste history, and allows you to access them on your desktop and mobile device. It's incredibly helpful to not have to go back and forth between apps to copy links to share on social media.
Planning things out
Last but not least, we get to the productivity apps. This is where it gets really hard because this particular category of apps is overloaded with interesting web apps. It's just impossible to use them all, so you really have to decide what's best for you.
Everything starts with a topic and a story, right? So creators really should utilize RSS reader apps, if they don't already, so they can easily follow the latest at all their favorite websites. There's a whole bunch out there with Feedly as probably the leading contender in the market. But old-school RSS heads will always long for that now-defunct former leader in the space, Google Reader. Earlier this year, I started using BazQux Reader and it's probably the closest I've seen an application come to emulating the feel of Google Reader.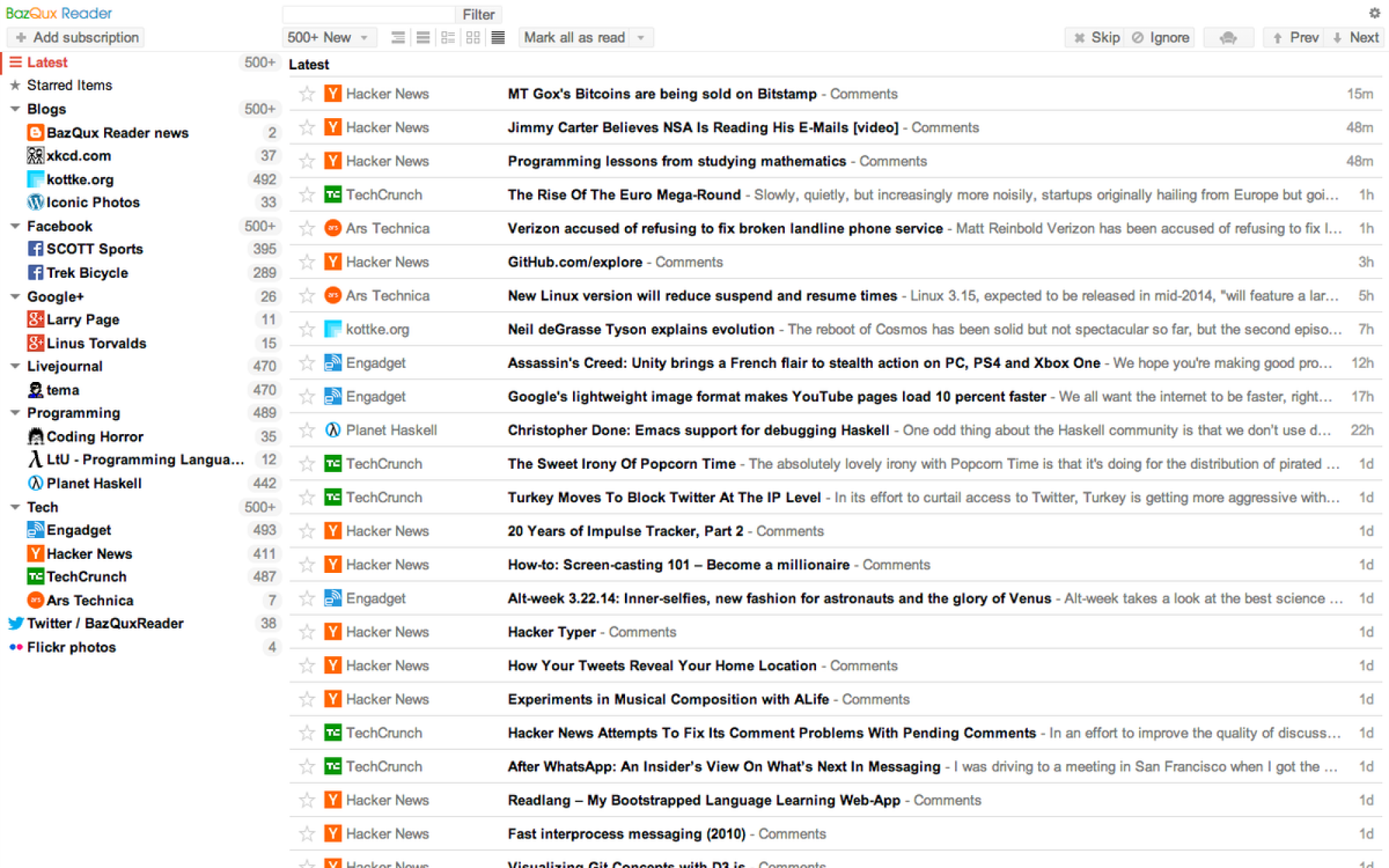 Credit: BazQux Reader
After finding links and sources, creators have to get everything organized, too. And that's where a good bookmarking tool comes in. Just like trying to find the perfect RSS feed reader, seeking out the perfect tool to manage your bookmarks is also quite the challenge. It really just comes down to your personal preference. Raindrop.io has long been a standout. But this year I came across a few new options that are worth checking out. Marqly and Guardo are two new bookmark managers. They both have similar pinboard-type layouts to easily find links, but each has unique features, too. For example, Marqly allows you to highlight and save text within the link you bookmark, so specific portions of the website can be referenced easily. A standout feature from Guardo is the ability to make a bookmark list public so you can share links with collaborators.
Other good bookmarking options I came across include Marklog and Anybox. I use Twitter's built-in bookmarks feature to save a lot of tweets I may want to refer back to, so I found Marklog's ability to connect to your Twitter account and automatically pull in and organize the bookmarks to be very helpful. Anybox is the pick for users who prefer to manage their bookmarks via desktop apps, which can be synced to their mobile device apps via the cloud.
And for saving web browser tabs, I recommend Toby for a cloud-based option and Session Buddy if you just want to save things locally.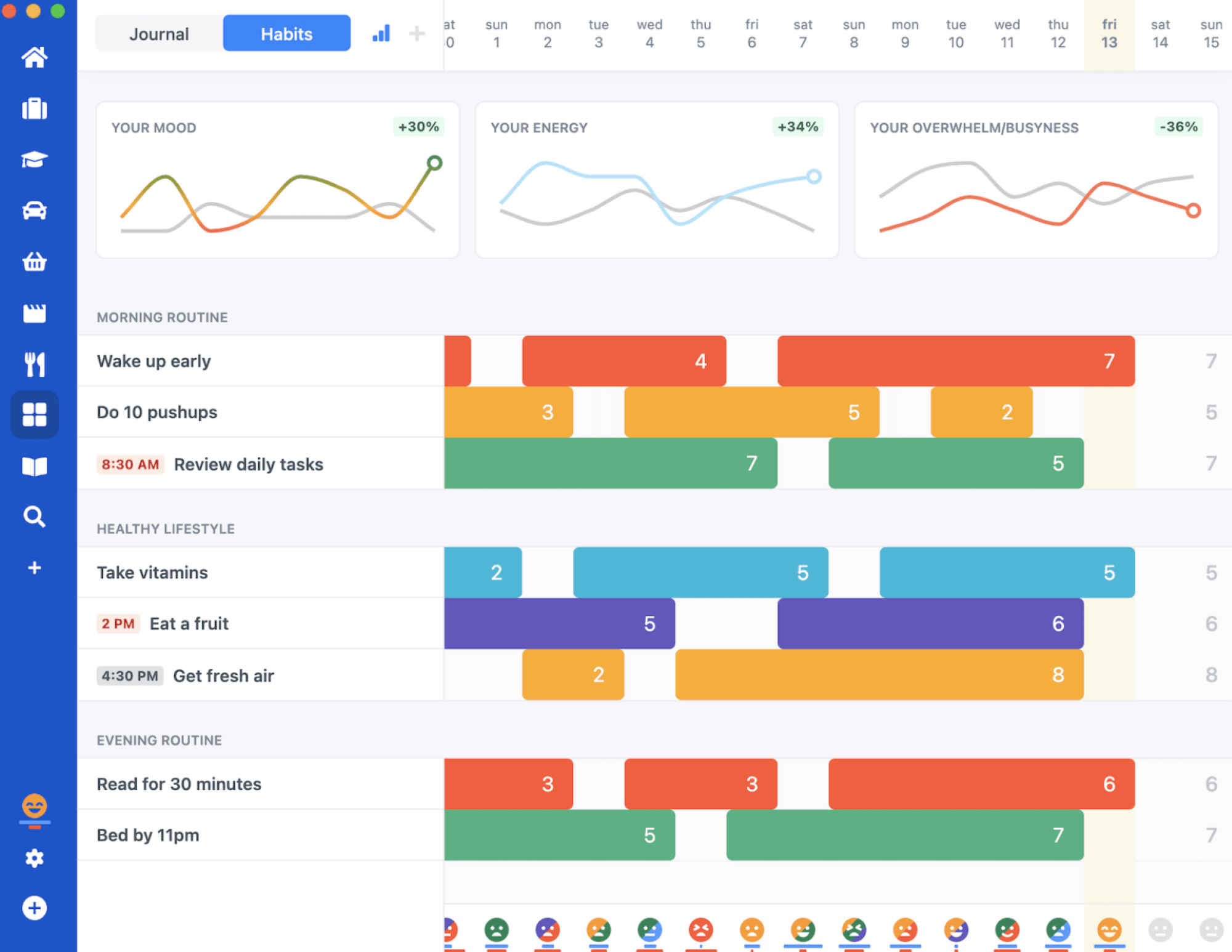 Lunatask can help keep your projects on track.
Credit: Lunatask
Once you're creating content, a to-do list for your tasks is a must-have so you don't get overwhelmed. For specific to-do lists for creative projects, I've started using Lunatask, which provides more options to track what needs to be done. You can easily prioritize tasks, push other tasks back, and track their status. It helps with staying up-to-date with publishing content of podcast episode release dates. There's a built-in journaling option, too, but if you want a full-fledged notes app, I've previously recommended Upnote for jotting ideas down. For people who want a different type of notes app, I've suggested Walling, which allows you to visually plan out ideas and create a sort of a pinboard of text, links, and media.
There you have it, creators. A slew of online services, mobile apps, and even some hardware suggestions to check out. Any and all of these recommendations should help with your content creation endeavors in 2023 and beyond.