Deal pricing and availability subject to change after time of publication.
BUNDLE AND SAVE: The Xbox Series S Fortnite and Rocket League Bundle was in stock at Amazon, Best Buy, and the Microsoft Store as of Feb. 4. All three retailers have it listed for $299.99, which is the same price as the console itself.
---
We're a little over a year into the lifespan of the PlayStation 5, yet the console is still as elusive as it was the day of its release. Sony has even gone so far as to extend production of the easier- and simpler-to-make PlayStation 4 through 2022 in an attempt to offset some of the PS5 demand amid supply shortages. (But good luck finding those, too: Most major retailers aren't selling them, as The Verge reported.)
Mercifully, things are a little different for anyone who's still trying to track down a next-gen Xbox — specifically, the Series S. Microsoft's managed to keep it in stock across multiple stores in recent months, and even popped out its first Series S bundle in December: the Fortnite & Rocket League Bundle.
Available at Amazon, Best Buy, and the Microsoft Store at the time of writing, the package includes a Series S console, a wireless controller, 1,000 Fortnite V-bucks, 1,000 Rocket League Credits, and the Midnight Drive Pack with exclusive cosmetics and bonus content — all for just $299, or the price of the console itself. That's the closest thing we've seen to a next-gen console "deal" since… well, ever.
Note that Fortnite and Rocket League are both free to play with an (also free) Xbox Live account, so you can hop right into some matches as soon as your Series S arrives. No need to make any separate purchases.
As a quick recap, the Series S is the all-digital (disc drive-less) version of Microsoft's flagship console and the smallest Xbox it's ever made. It's got half the storage and a third of the processing power of the $499.99 Series X, but Mashable senior games reporter Adam Rosenberg says its overall user experience is virtually identical — you get "similarly boosted performance, speedier load times, and fancier graphics." All things considered, it's the most affordable way to upgrade to next-gen gaming.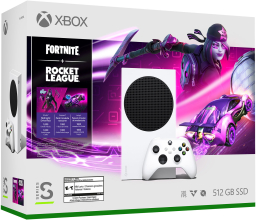 Credit: Microsoft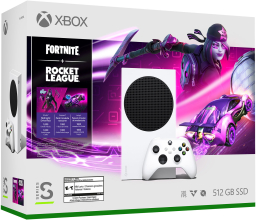 Credit: Microsoft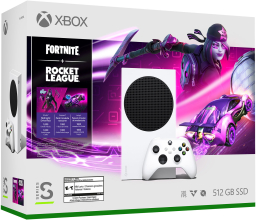 Credit: Microsoft