"Hey Spotify, why?"
After Spotify released its Car Thing streaming device for all Premium users last week, I've been testing it out in my 1995 Honda minivan. But I'm still confounded as to why Car Thing is even a thing.
It took a several cords and adaptors, but I was able to mount the lightweight touchscreen device to my car's fan vent and listen to my Spotify Premium account. It even has voice control to keep it hands-free while driving, so I could command it "Hey Spotify, play next", or more specific playlists or artists.
But Car Thing is mostly redundant, since we all have ways to listen to music or Spotify in the car already.
What is Car Thing?
Car Thing is a small touchscreen that displays your playlists, song and podcast requests, and recent searches that you can navigate with your voice or a large side dial to move as a cursor and adjust the volume. There are four buttons along the top edge that you can map playlists to for easy access.
Car Thing connects to your Spotify account on your smartphone via Bluetooth. You power the device through the car's power source, where you'll need an adaptor. You then have to connect your phone to your car speakers. It's a lot. Luckily it connects to your Spotify account easily enough, and setting up is a cinch.
As The Information pointed out, this is an attempt for Spotify to branch out into hardware and create its own product that doesn't rely on Apple, Android, or even car infotainment systems. But if you already listen to Spotify through Android Auto or Apple CarPlay, Spotify's separate screen mounted above the dashboard screen doesn't make sense. You'll have a screen next to your… other screens.
How it works
Car Thing only works as a Spotify player and that's it. While driving with Car Thing plugged in, my boyfriend called and down went the music volume. Frustratingly, I had to switch over to my phone screen to answer the call. How nice it would have been to have a big button on the Car Thing touchscreen to pick up his call.
Since Car Thing isn't a standalone device, it needs to prove itself valuable enough to warrant an extra electronic contraption to deal with alongside your phone.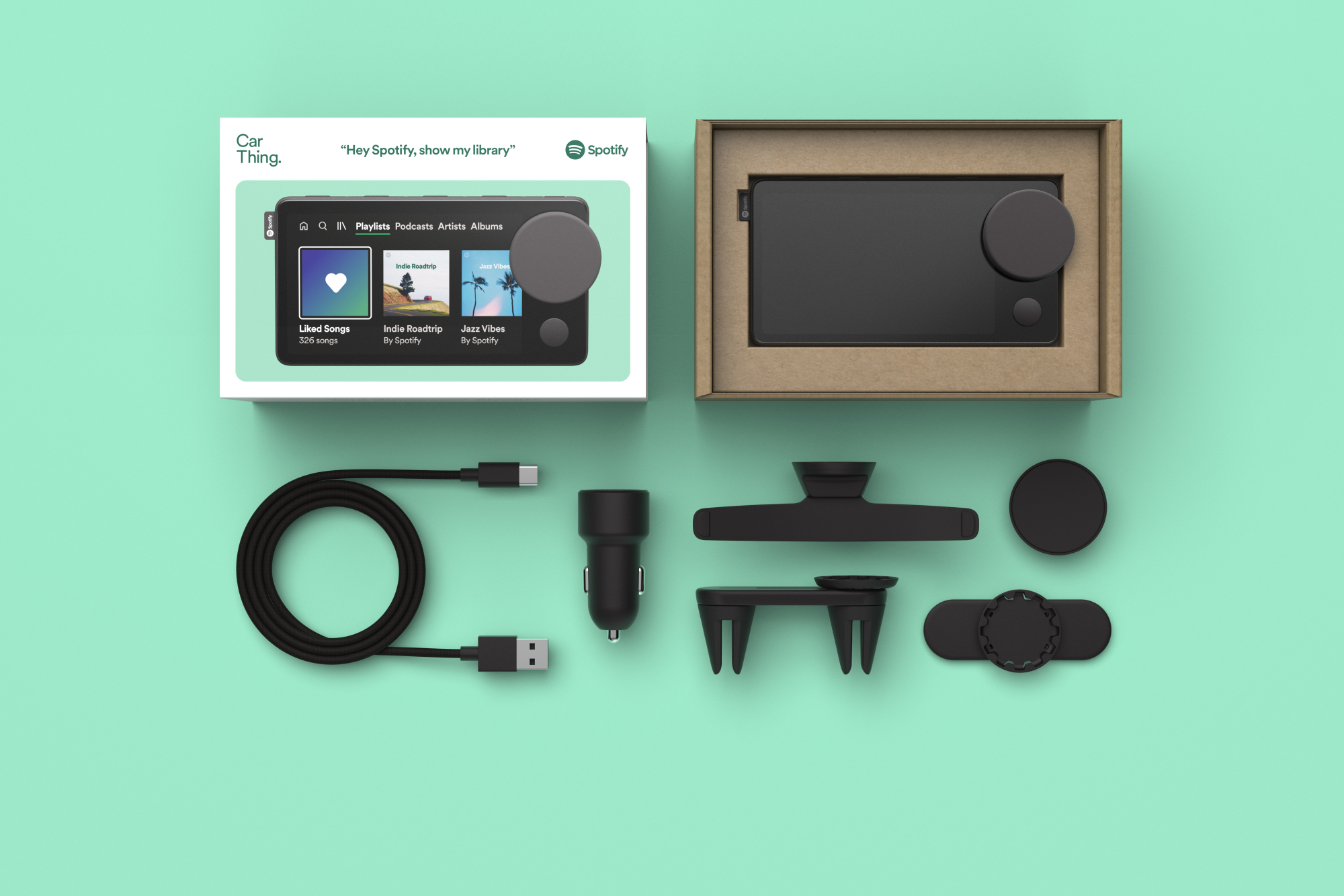 It's all there.
Credit: Spotify
For your $90 you get the box shipped for free and all accessories are included. There are two types of mounts: one for a dashboard or one for a vent. There's a strong magnetic connection so the screen is secured. To power Car Thing there's a USB adaptor that fits into the "cigarette lighter" socket. Easy. But for an old car like mine the stereo system needs an auxiliary cable to connect to the phone. I used a tape adaptor in the cassette player and an iPhone dongle, since my iPhone 8 no longer has a headphone jack connector.
Worth it?
Definitely not. Even in my older car that only has the radio for entertainment, Car Thing was a more convoluted way to listen to music.
If you're already a Premium subscriber and you're frustrated with the Spotify app interface on your phone or car, then sure, go for it. But please don't switch to Premium just for the privilege to buy the $90 Car Thing. Yes, it works well and does what it's supposed to do, but it's an unnecessary extra device in the car.