A new split-screen mode has been introduced in the latest update of Android Auto. This feature supports two separate apps to run side by side.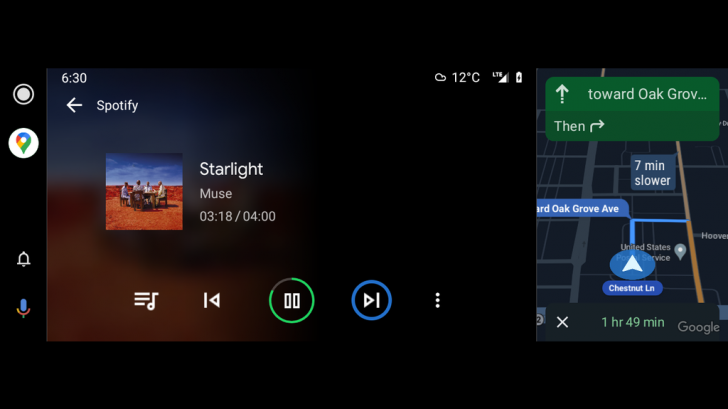 CarPlay Dashboard
Earlier Apple introduced this feature in iOS 13 with the name of CarPlay. It allowed the users to run multiple apps side by side. It was an attempt to keep the focus of users on one screen rather than distracting the driver by moving from one app to another.
Apple included the support of some very handy apps on this new feature called Dashboard; like phone call information, music player, calendar, and navigation apps.
The feature had a positive impact on driver safety and got popularity amongst car lovers. It allowed the driver to focus on driving and get the most information at a single glance.
Ever since the users were looking at google to introduce this kind of functionality on Android Auto.
Finally, Google has introduced a Split-screen feature on Android Auto with even some different functionality.
Android Auto Split-Screen
In the latest version of Android Auto 6.1, a new split-screen mode is available. Users can run multiple apps like Google Maps and media side by side. It means you can view navigate and enjoy the music on the same screen at the same time.
The left side of the screen displays the main app, however now users can see another selected app on the right side of the screen. Carplay shows small cards of multiple apps in groups on screen however Android Auto shows two apps side by side. It gives a clear and bigger view to the driver.
This feature is only available for cars with wider screens but we hope that google introduces the same on standard display soon.
Few users have reported that some apps do not support this new view. Also, there is no full-screen display for a single app so the users have to stick with two windows views.
Since the feature is new and there will be updates/fixes with user feedback. We hope the reported issue will be fixed in later versions.