Deal pricing and availability subject to change after time of publication.
TL;DR: The Renewed Dell Optiplex 3020 Tower Gaming PC and the Periphio Gaming Kit is just $589.99 at the Mashable Shop as of Jan. 2.
---
Whether you were gifted a whole lineup of PC games for the holidays or plan on splurging on a few in the new year, you're going to want a computer that can keep up. But you shouldn't have to drop thousands of dollars just to play the games you love.
Why not keep some money in your pocket and opt for a renewed Dell Optiplex 3020 Tower instead? This entry-level gaming PC is less than $600, packs an impressive quad-core Intel i5 processor, and comes with a handful of essential accessories.
The Optiplex 3020 features 16GB of DDR3 RAM, with the option to add another 16GB total in two slots. There's also 240GB of SSD storage, an AMD R7 250 (2GB) graphics card, plus a handful of ports to plug in additional storage options, accessories, or anything else. There are six USB 2.0 ports, two USB 3.0 ports, a VGA port, display port, and digital card reader slot. It's ready straight out of the box with Windows 10 installed, and perfect for those just diving into the PC gaming world.
This gaming PC also comes with some essential accessories to get started with your favorite games. You'll get the Periphio 4-in-1 Gaming Kit, which includes a premium RGB gaming mouse, keyboard, high-quality gaming headset, and a coveted XL gaming mouse pad. In other words, you'll get an entire gaming setup all for one low price. You can immediately start dominating games like Fortnite, CS:GO, Minecraft, Valorant, Garry's Mod, Apex Legends, Dota 2, and much more as soon as it arrives on your doorstep.
Renewed by Blair Technology Group, one of the top leaders in renewed computers, this Optiplex 3020 has gone through a rigorous refurbishing process with second-to-none quality control testing. Get the PC, plus the Periphio Gaming Kit for just $589.99 for a limited time.
Prices subject to change.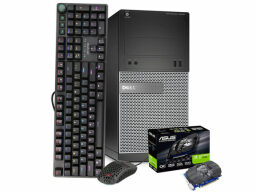 Credit: Dell